Are you looking to change up some family favorites? Try your hand at smoking (or at least get that flavor)!? We're sharing our 3 favorite recipes, to help you do just that!
Smoked Chuck Roast Recipes For You!
This post may contain affiliate links, which means I may receive a commission, at no extra cost to you, if you make a purchase through a link. Please see my full disclosure for further information.
A chuck roast is a perfect piece of meat for recipes that allow time for the meat to tenderize. While we have cooked a roast many different ways, with many cuts of meat, a smoked chuck roast is a family favorite.
Before we jump into our favorite smoked Chuck Roast recipes, let's take a minute to talk about some common cuts of beef, and how they are different from one another as there are often questions about choosing a piece of meat when headed to the grocery stores.
If you want to jump ahead to recipes you can do so here:
---
Understanding Cut of Beef
Shoulder roast vs chuck roast
Both shoulder roasts and chuck roasts are cut from the same general area – the shoulder. They are both sub-primal, but not interchangeable. Should roasts are leaner and more tender and can generally be cooked without marinade. Chuck roasts, however, require time to tenderize and generally need to be cooked slowly.
Rump roast vs chuck roast
A rump roast comes from the hindquarters (not the bottom round) whereas a chuck roast comes from the shoulder area. Both have a lot of connective tissue, resulting in a tougher cut of meat. While both are tough meat that requires tenderizing, of the two, the rump roast is generally the more tender. Both are good for pot roasts, chuck roasts are great for smoking.
Arm roast vs chuck roast
An arm roast and a chuck roast are both a piece of meat that is cut from similar areas. The difference is that the arm roast is cut from the shoulder, whereas the chuck roast is cut from between the shoulder and the neck.
An arm roast is ideal when you are looking for a strong beefy flavor and is ideal for slow cooker dishes, or when you are looking for a more tender cut, typically that is grill ready.
---
Common Questions about cooking beef
How long to smoke chuck roast per pound
While cooking times will vary depending on your smoker when planning you can approximate 1 hour per pound chuck roast. For an average size roast, 4-6 hours. To ensure it is cooked through, cook until it has reached internal temperatures of 150°F and 175°F.
You can check out my favorite digital thermometer here. 
How long to smoke a beef roast
Smoking a beef roast is the same as smoking a chuck roast in that you can approximate 1 hour of cooking per pound of chuck roast. You will want to ensure that the internal temperature of the meat has reached between 150°F and 175°F. Cooking times will vary, so be sure to follow your recipe.
How long to cook chuck roast in oven at 350
A chuck roast will take approximately 25 minutes per pound in an oven set to 350°F. As with all meats, you want to ensure it is fully cooked by checking the internal temperature. Beef should always be cooked to reach 150°F. The higher the internal temperature (beyond 150°F, the more well done it will be.)
How to cook a chuck roast so it falls apart
The best way to cook a chuck roast so it falls apart is in a slow cooker. Unlike most other cooking methods, the slow cooker tenderizes meat the longer it cooks (typically). A chuck roast, some beef broth, and a slow cooker will get you well on your way to a fall-apart roast!
If your roast isn't falling apart yet, cook it longer, and use two forks to pull it apart periodically.
What is the best smoker for home?
Smoking to make meat tender is another way to make sure it falls apart easily.
If you are going to smoke a chuck roast, you need to be prepared! Our favorite smoker is hands down, the Weber 18-inch Smokey Mountain Cooker, which can be found at Home Depot. 
This is a decent-sized smoker and for those of you who want to use a smoker for Thanksgiving, it will allow you to do a whole turkey and a ham AT THE SAME TIME!
This smoker helps you get that smokehouse flavor at home and will make your meat so tender it will fall right off the bone. I have to admit I was initially a bit resistant to a smoker, but now we absolutely love it. 
---
Slow Cooker Smoked Chuck Roast Recipe
We love slow cooker recipes in our house, mostly because they take less time to prep and are a great way to make dinner ahead of time. I feel like it's always a good idea to cook at a lower temperature for longer, but that is just my preference! It is also the best way (in my opinion) to cook a pot roast so it falls apart. Check out our favorite slow cooker recipe below (via The Magical Slow Cooker)
Slow Cooker Beer, Onion and Ketchup Chuck Roast
Slow Cooker Beer, Onion and Ketchup Chuck Roast is a reader's recipe I had to try! Smells SOOO good while cooking.
Check out this recipe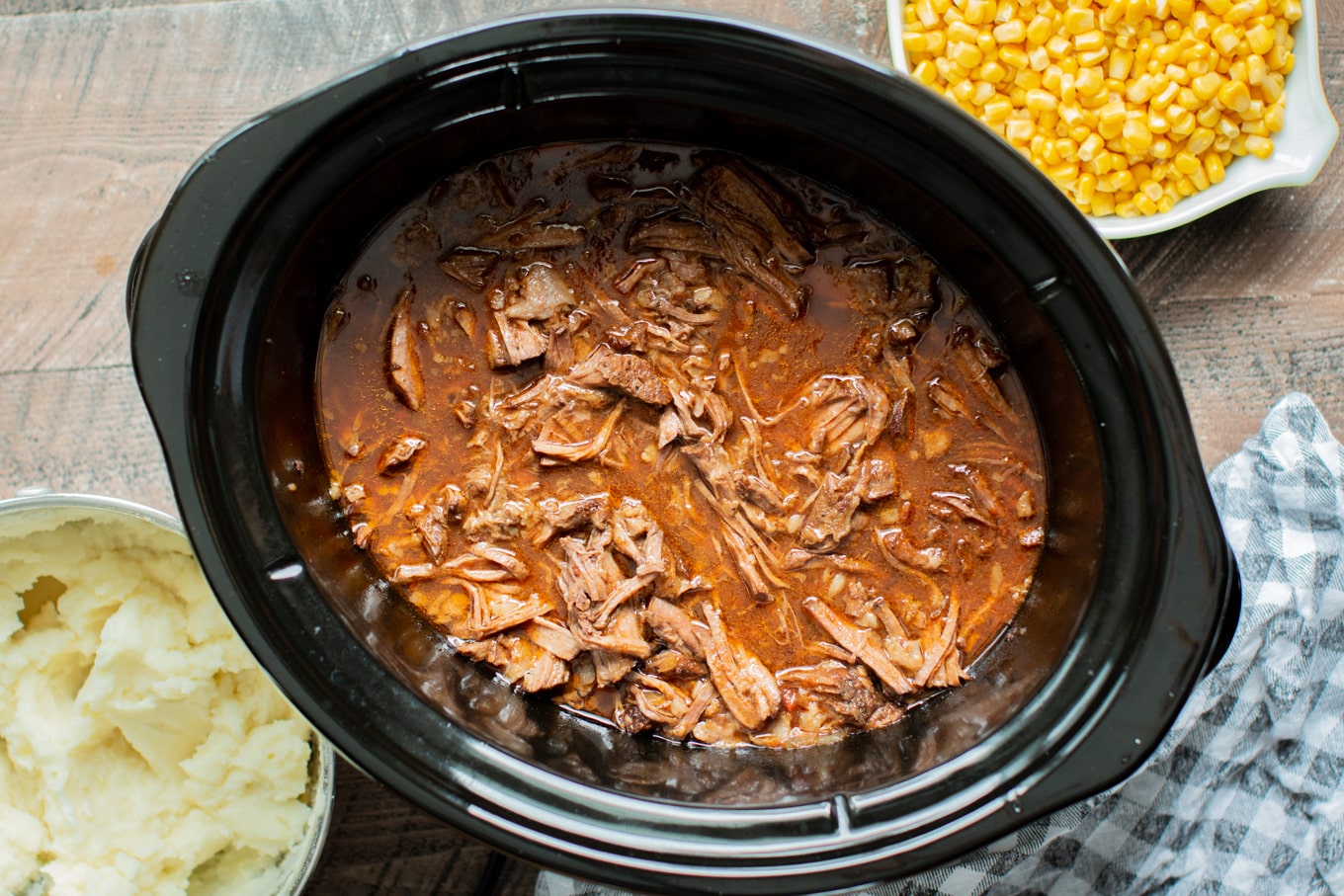 Like most pot roast recipes, this chuck roast recipe calls for a package of onion soup. If you don't have any on hand, you can grab a small bowl and easily make your own with beef bouillon, onion powder, garlic powder, and a couple of other simple things. You can check out our favorite recipe here.
While this particular recipe calls for cooking with beer, beef broth makes an excellent replacement and is the favorite way in our home.
---
Smoked Chuck Roast Recipe
Like most chuck roast recipes, this recipe involves cooking low and slow and two steps of cooking. The first step cooking the meat uncovered, and then the second, covering the skillet with aluminum foil once the internal temperature reaches the specified temperature, and cooking further. This makes sure that the steam circulates around the meat and creates the best flavor. Check out our favorite smoked chuck roast recipe below (via Smoked Meat Sunday).
Smoked Chuck Roast Might be My Favorite Cut of Beef
Have you ever tried smoked chuck roast? Check out why this affordable cut of meat might just be my favorite
Check out this recipe
We love the seasonings in this recipe, anything with brown sugar makes family mealtime that much better!
---
Texas Style Smoked Beef Chuck Roast
What is Texas Style Cooking?
When people refer to meat being "Texas Style" they are typically referencing a cooking style common in Central Texas. A Central Texas Style meat is typically seasoned with a simple dry rub of only coarse salt (or kosher salt) and black pepper and is cooked over indirect heat.
Meat is cooked slowly at a lower temperature, which allows most of the flavor to come from the fat on the meat as it breaks down and tenderizes the connective tissue of the meat. Methods of cooking a smoked chuck roast over indirect heat often include cooking over the heat of pecan, oak, or mesquite wood chips or wood chunks, often utilizing in a pellet grill or pellet smoker to get that beautiful smoke flavor. Like in the previous recipe, smoking a beef chuck roast often involves two stages, first smoking it unwrapped and then wrapping it in aluminum foil or butcher paper.
South Texas, as well as East Texas and West Texas, have different styles of cooking.
Check out our favorite Texas Style recipe (via Little Sunny Kitchen)!
Texas Style Smoked Beef Chuck Roast – Little Sunny Kitchen
Learn how to make the best ever Smoked Beef Chuck Roast for slicing or pulling! Very similar to smoked brisket, but done much quicker!
Check out this recipe
---
While there are a lot of recipes out there, these are three of our absolute favorites, and we are happy to share them with you!
No matter which recipe you choose, for best results we suggest allowing the roast beef to come to room temperature before cooking!
CHECK OUT: If you want to keep the kiddos busy while you are prepping your smoked beef chuck roast set them up in the kitchen with this easy recipe for kids (that will also make a fun dessert for summer nights!)
Pin for when you get hungry!
Best Smoked Chuck Roast Recipes (3 Amazing Recipes!)